Ukraine – The latest news from Ukraine is likely to deepen all of Putin's recessions -- in Russia, Ukraine, and the EU
E-Cigs – The American Heart Association says e-cigs should be banned for minors ... but can help smokers trying to quit
Australia – After 23 years of expansion, investment is dwindling, wages are stagnating, and consumer prices are rising
Software – China is developing its own operating system to launch in October, taking on Microsoft, Google, and Apple
---
| | | |
| --- | --- | --- |
| MRP | McAlinden Research Partners | DIBS | |
Daily Intelligence Briefing - August 26, 2014

Putin's first recession is in Russia. The economy was already skidding before the annexation of Crimea and the post-MH17 sanctions started to bite. Now Russia is "close to recession," according to the chief forecaster at the economics ministry. The government has slashed its growth estimates for 2014 and 2015. And more sanctions are on the way.

Putin's second recession is in Ukraine, where the economy already shrank -4.7% in the second quarter from the year before and will continue to contract at least through the second quarter of 2015, according to consensus forecasts. For the year to date, the hryvnia is the worst-performing currency against the dollar of the 170 countries tracked by Bloomberg. Russia cut off natural gas to Ukraine in June. And Russia is holding the pin on Ukraine's debt grenade: Ukraine owes Russia US$3 billion and can demand immediate repayment when Ukraine's debt-to-GDP exceeds 60%, which is now just a matter of time.

Putin's third recession has yet to hit but is building: Europe. Sanctions against Russia have started to hurt European businesses, with Russia's counter-sanctions hitting more industries, particularly agriculture and food services. To take just one data point, German exports to Russia fell -15% in the first half of the year.

The latest news from Ukraine is likely to deepen all of Putin's recessions. For months, Russia has been supporting separatists in eastern Ukraine and supplying unofficial military support. That is now changing. Last week, Russia sent a humanitarian convoy into eastern Ukraine without permission, openly challenging Ukraine's sovereignty and setting a new precedent for future incursions, whether humanitarian or military. More incursions have already been reported this week and today the Ukrainian military announced that Russian helicopters fired on a border post, killing at least 4 guards.

For Putin, the "greatest geopolitical catastrophe travesty" of the 20th century was the dissolution of the Soviet Union, a historic wrong that he is now setting right. If he is a hedgehog about that goal, he has been a fox about the tactics, at least until now. Unless peace talks deliver a surprise, Russia's involvement in Ukraine's war is now in the open and likely to escalate. If Russia persists in expanding its borders through the use of force, unseen in Europe since the end of World War II (when the Soviet Union expanded its borders), it will be further isolated economically, diplomatically, and politically. In that event, the response from the US and EU will almost surely involve even deeper sanctions, even at the risk of another recession in Europe and at least a material slowdown in the US.

For now, recent events have further reinforced MRP's investment implications that we set out in March.
Long Commodities
Short European banks
Long Defense Spending
Short Russia and the Ruble
Long Energy Infrastructure
Long Dry Bulk Boats and Tankers
Source: Bloomberg, McAlinden Research
---
Today's Issue Cluster: Ukraine
Putin and Poroshenko meet in Minsk
Ukraine's currency is the worst of 170 countries so far this year
Ukraine's economy uses energy at 2x the rate of Russia and 10x the rate of the OECD average ... subsidies will be cut, sparking inflation
Germany exports to Russia are down -15%
Russia provides 1/3 of Europe's uranium ... other suppliers are stepping forward
Russia is expanding trade ties to replace sanctioned European imports ... more boats to South America
Russia's cultivated land has dropped by 19% since the USSR's dissolution ... farm lobbyists want subsidies to be doubled
Best of the Rest
E-Cigs – The American Heart Association says e-cigs should be banned for minors ... but can help smokers trying to quit
Australia – After 23 years of expansion, investment is dwindling, wages are stagnating, and consumer prices are rising
Software – China is developing its own operating system to launch in October, taking on Microsoft, Google, and Apple

Here's MRP's latest monitors: Macro, Sector and Country

US – Jul: Durable Goods Surge on Aircraft Demand; +22.6%, -0.8% w/o transp / B / WSJ / R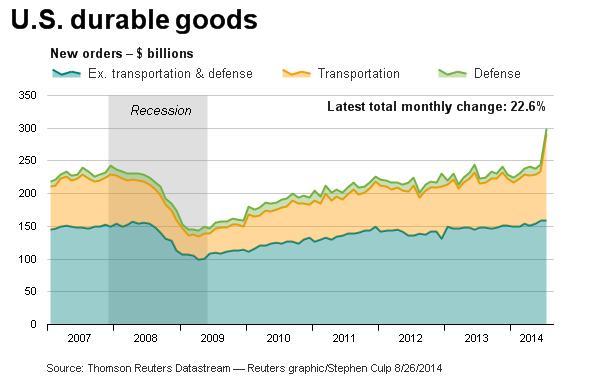 US – Jun: S&P/Case Shiller home prices declined; -0.2%, +8.1% yr / R / B

Stocks – US: S&P 500 passes 2,000 for the first time
Stocks – China: Shares Gain as Investors Seek Safety in Blue Chips
Stocks – China: New Stocks Link Seen Carrying Risks
Stocks – EU: Top UK Fund Manager Says Equities Are Overvalued
Stocks – EU: Investors Rethink Bets on Europe Shares
Stocks – EU: Down but not altogether out
Stocks – Asean: Southeast Asia strong on solid economies
Australia – Is the model in trouble?
Ukraine – Poroshenko calls snap parliamentary elections
Ukraine – Economy is broken down
Ukraine – Russia Pressures McDonald's
Ukraine – Russia sanctions take toll on Germany
Ukraine – Rabobank and Raiffeisen warn on impact of sanctions
Ukraine – Statoil Warns of Russian Delays as Sanctions Bite
Ukraine – Westinghouse urges EU to break dependency on Russian nuclear fuel
Ukraine – South Stream gas project may now be a pipe dream
Ukraine – Europe's Brewers Hit by Lower Russian Spending
Ukraine – Russia rushes to diversify import sources
Ukraine – Countries Hardest Hit By Russia's Trade Ban / statista

Ukraine – Surge in Putin Patriotism Masks Pain of Sanctions
Ukraine – Rosneft hit by western sanctions as $2b Vitol deal scrapped
Ukraine – Russian agriculture struggles to meet self-sufficiency
Australia – Great borrower grief
E-Cigs – Under Scrutiny for Listing as Flight Hazard
E-Cigs – Imperial to Be Blu Even as Sales Lag
E-Cigs – State Attorneys General Urge Tougher Curbs
E-Cigs – Should be banned for minors: US heart association
E-Cigs – Heart group: Might help smokers quit
E-Cigs – E-cigarettes may be tempting non-smoking youths to smoke: CDC study
Software – China Developing Software to Take on Microsoft, Google and Apple
Ship – Container rise bodes well for world trade
Ship – Surprise Summer Traffic Surge Snarls Rotterdam Port
Ship – Panama Weighs Another Canal Expansion
Metals – Aluminum: Ford Truck Plan Picks Up Speed
Metals – Gold: India's Appetite Improves
Metals – Copper: Peru to become world's second-largest producer
Metals – Silver: Physical bar and coin demand vs industrial applications / t

Pharma – Chinese R&D marks step forward
Pharma – DEA Restricts Narcotic Pain Drug Prescriptions
Pharma – 'Plantibodies' drugs advance as big companies stand aside
Pharma – Pharmacies Pit Insurers vs. Compounders
Y-DNA human migration motw

Warren Hatch, PhD, CFA
Portfolio Management and Global Investment Strategy
McAlinden Research Partners

Follow me on Twitter
Follow MRP on Twitter

The information provided in this presentation (the "Report") is not to be reproduced or distributed to any other persons. This Report has been prepared solely for informational purposes and is not an offer to buy/sell/endorse or a solicitation of an offer to buy/sell/endorse Interests or any other security or instrument or to participate in any trading or investment strategy. No representation or warranty (express or implied) is made or can be given with respect to the sequence, accuracy, completeness, or timeliness of the information in this Report. Unless otherwise noted, sources for public data include Bloomberg, Trading Economics, and FRED (Federal Reserve Bank of St. Louis Economic Data). McAlinden Research publishes daily, weekly, and other periodic reports on the economy and the markets. Catalpa Capital Advisors, LLC (CCA) is a Registered Investment Advisor which manages client accounts. References to specific securities, asset classes and financial markets discussed herein by McAlinden Research are for illustrative purposes only and are not intended and should not be interpreted as recommendations to purchase or sell such securities. Securities discussed in the Report may or may not be held in accounts managed by CCA and/or its associated persons, and changes in those accounts may be made at any time without notice to its subscribers. Neither McAlinden Research nor CCA is under an obligation to inform research recipients if any accounts managed by CCA subsequently purchase or sell securities discussed by McAlinden Research and they do not anticipate providing such information.

230 Park Avenue | New York, NY 10169 | (212) 231-8701 | Inquiries: nelly@mcalindenresearch.com